Best Gadgets for Your Cycle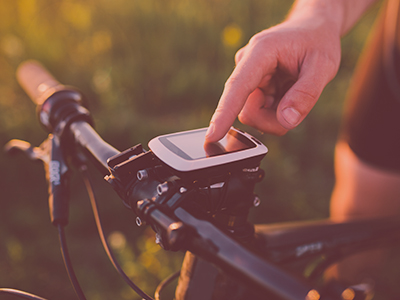 Let's be honest, one of the reasons we get so into cycling is for the awesome little toys and gadgets we can add to our bikes to not just help keep us more safe, but also give us great information about our rides.
Most of these will be included in your bicycle value and will be covered as part of your Cycle Insurance.
We've outlined some of the best gadgets and upgrades you can add to your cycle in 2020:
Cycle reflectors and lights may sound pretty boring, but they're really important for night cycling. Make sure you get sturdy LED lights, not only with they provide more visibility they last for absolutely ages, so you'll get your money's worth.
Paniers are great for storage and are essential for those long-distance rides. Make sure you don't just buy the cheapest ones you can get, make sure they're waterproof and sturdy, you don't want them falling off or breaking during a ride!
Bike bells always come in handy if you cycle through parks or other often busy paths, especially nowadays with so many people with headphones on!
Cycle tyre pumps are a really useful piece of kit, but these should not be left on the cycle when it is unattended as they are easily stolen. Also, you can find some really compact and travel sized pumps that you can take with you on longer trips.
There's very little cycle computers can't do nowadays, but there are still a wide variety of options out there. From brands that just cover the basics so all singing and dancing models. Find out how much info you want from your rides and then choose the best computer for your needs.
GPS systems are also pretty useful, especially if you're interested in cycling specific well-trodden routes, you can also link many of them to Strava to help track your progress and how quickly you're completing the circuits and routes you're choosing.
Don't forget too that your bike gears can also be modified to make the cycle more suitable to a wider range of riding conditions, improving efficiency and providing a more enjoyable ride.
Water bottles and drink's holders are a must for any long-distance use and competitive cycling. Or if you prefer, hydration backpacks which are much easier to use.
There are a wide range of security devices available including padlocks and chains, loop locks, identification markers and microchip tracking devices. Make sure, whichever lock you choose it abides by your insurance company's security requirements.
Cycle helmets are an essential piece of kit for any cyclist and should always be worn.
(Check out our article on Road Safety Tips!)
Finally, when it comes to clothing, always try to choose practicality over style. The most important thing is that you're always clearly visible on the road, then think about warmth for winter and cool for summer, the biggest brands are not always the best when it comes to safety.
Please remember to always notify your Cycle Insurance company of any modifications made to your cycle.