What is Bikeability?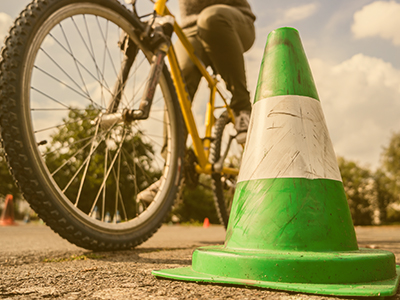 Here at CycleInsurance.co.uk we have put together some information on Bikeability, to help get your children and family members up-to-scratch on the increasingly popular scheme that puts people on two wheels.
Bikeability has been developed since the 1950's and has seen many improvements since that time. The overall idea of the course is to provide and educate children from an early age with the correct safety skills and the confidence they need to ride their bikes on today's roads.
The scheme has been developed by over twenty professional organisations including the Royal Society for Prevention against Accidents and is supported by various government departments including the Department for Transport, Department for Children, Schools and Families and the Department of Health.
The Bikeability course offers three levels. Once a child starts to learn to ride a bicycle, they can begin to train at level one. There is no real age bracket to this part of the course, and this teaches the basic safety skills needed for general cycling.
Once a child reaches around the age of 10, they will normally progress onto the second course. This will teach them more intermediate road safety and cycling skills. The third course is normally offered to children in secondary school, aged between eleven and eighteen.
After each course has been completed successfully, the child will receive a certificate and a badge. They are encouraged to try to complete all three courses to receive full training in all aspects of cycling and road safety.
So far, thousands of Bikeability badges and certificates have been awarded, and over 250,000 young people have participated in the scheme.
By 2012, Bikeability aims to have trained nearly half a million children, and their ultimate goal is for all children leaving primary school should be given the opportunity to take part in the training scheme.
Don't forget to take a look at Cycle Insurance to get yourself covered as well!